Study In USA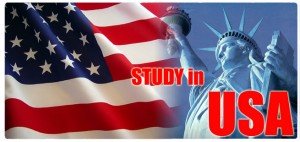 WHY CHOOSE APEX FOR YOUR AMERICAN DREAM?
The Package! Every step of the way, you are covered! Look at the package features below which lists each of the steps on the way to the USA and how we assist you in each step.
 Pre Assessment and Advice: You are requested to fill out a form that lists your most important academic and financial data.
Time line Creation: A time line is created to all the processes beginning with profile creation  and ending with airport pick up. Specific dates are allotted to each step in the process and thus, multiple deadlines are set.
Student Profile Creation: Your profile is created using data on your pre assessment form. Your profile will be matched against university profiles to gauge acceptance chances.
Career Counselling: You will be counselled on every possible undergraduate and graduate major with regard to course content, possible careers with a particular major, short- term prospects, further studies and long term prospects in any field.
Early/Regular Decision Advice: We advise you on which decision you are eligible for.
Documentation for Institutional Applications: We prepare applications to colleges/universities of your choice.
Applications to  Institutions:  We send the applications to universities/colleges of your choice .
I-20 Procurement: Counsellors follow up at the institutional stipulated deadlines and continue follow ups till the I-20 arrives. You will be notified after each follow as to the status of your I-20.
Institutional Selection: Counsellors help you to make an informed choice as to which college/university you are actually going to continue your studies at.
Documentation: This is a daily workshop held from Sunday to Friday. This workshop is for the purpose of reviewing visa documentation compiled till date, suggesting changes or modifications and providing advice for further documentation. You can attend everyday till your  visa interview.
SEVIS Registration Advice: Counsellors will advise you on how to register for the SEVIS.
Interview Registration Advice: Counsellors advise you on the availability of interview dates, suitable dates and where/how to book dates.
Tuition payment Advice: Counsellors advise you on the process of making a draft for your fees.
Traveller's Cheque, Shopping and Immigration Advice: Counsellors provide advice on how to get TCs, what to shop for and how to clear immigration once you land.
Pre- Departure Briefing: Before you fly, counsellors provide you with a comprehensive briefing that will make life easier as a student in the USA.
Housing: If you need institutional housing, our counsellors will arrange it for you.
Airport Pick up: if you need institutional housing, our counsellors will arrange it for you.
Why USA?
The USA is the most popular destination among students in Nepal seeking to study abroad for several reasons. The academic excellence and holistic exposure available at US universities and the short-term and long-term career advantages once you invest in a US degree are the main reasons students choose the USA above other countries. In addition, the global focus of a US degree, availability of financial assistance, opportunities for research and the flexibility of grad and undergrad education in the USA are also important reasons students choose the USA for their further studies.
USA Counseling at APEX
At APEX, we offer a range of options by way of universities in the USA. With regard to location, we have university options in many states of USA. We offer placement in public, private, comprehensive and research universities with the best possible scholarship.
Admissions are processed at the optimum speed at APEX because of the long and cordial relationships we enjoy with several universities. Your I-20 will be in your hands within the stipulated time frame because our counsellors meticulously keep tabs on each of our hundreds of applications and follow up regularly to ensure that you adhere to your time-line.
We also have the best visa documentation procedure with comprehensive guidelines on preparing your documents for the interview. Our interview preparation classes take into account all the best ways to prove that you have the intent to study in the USA, the ability to succeed academically, the means to be able to fund your studies in the USA and the ties that will ensure that you return to Nepal upon the completion of your studies.